From today, February 8 until Friday February 11, Czari's Attic is offering the exquisite "Bottled Rose" Welcome Mat for only 1L. When walked over the mat emits tiny red roses.
NOTE: As shown in the photo, the permissions for the welcome mats are mod/trans for gift-giving. However, the 1L limited special has copy/mod permissions until February 12. If you would like to purchase a mod/trans version of the "Bottled Rose" Welcome Mat, it is available in Czari's Attic SL Marketplace.
For only 35L, you can stock up on these welcome mats for shower, engagement, wedding, anniversary, etc. gifts. AND if you purchase the entire set you save 50L!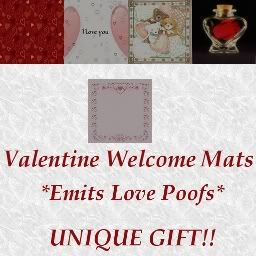 The 1L special and a demo are available at Czari's Attic in world Shoppe.