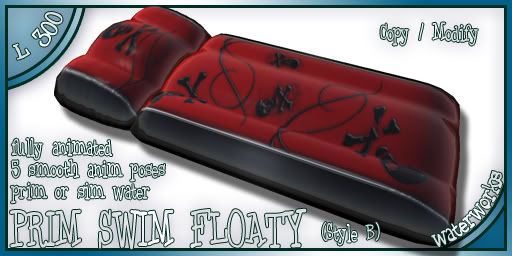 Some folks asked for this one, so I've done it up in some colors and passing it on.
Relax and float around on this working air mattress. It works in both linden sim water - and prim water! Unlike many 'floaties' this one actually works and you can float and paddle around the pool/beach.
Features several poses including sunbathing,dreaming,relaxing... with smooth animations between each, like my beach towel.
These aren't jerky snap to pose - nor 'blended' transitions - you'll move from each pose as a person should with smooth transitional animations.
It includes the 'Primswim Lite' script that's COPY and TRANSFER so you can make any pool swimable or even include it in your own creations/products!.
Check it out for yourself at
WaterWorks