Baratia Island is the newest up-and-coming destination sim in SL, and we are in urgent need of event staff for the month of October. We seek individuals experienced with hosting and management of high-end clubs for specific events, and offer negotiable per-hour fees plus 100% tips for your service.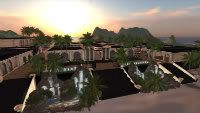 (Visit the island here)
NOTE: WE ARE IN URGENT NEED OF STAFF FOR THIS WEEK - OCT 16-18 -- Please contact us soon! (And sorry for the last-minute request) -
Check our Event Calendar for details.
Positions will be titled "Concierge" and will require candidates to:
* Commit to attend and work during specific dates/times when live and recorded music events are scheduled. See our Event Calendar for the current lineup. Be able to provide the services outlined here either with oversight and support from Bard Jameson (owner) or Baratia management or independently when needed.
* Greet visitors congenially and professionally, note and report to Bard Jameson the names of each visitor to the event.
* Know all the venue names and locations of the island (there are 4), as well as be familiar with the general layout of the island (Atia Creations main store, mall stores, etc.) and be able to direct visitors accordingly.
* Know the names of Baratia Merchants and Artists, greet them with particular deference and be ready to answer questions and provide assistance within the limits of the provided land/sim permissions.
* Set/change the media URL's for the venue parcel you are working, as needed. The position will be given media permissions and will also be made an admin on streaming tuners provided in each venue.
* Encourage visitors to tip the artists and the venue as well as participate in contests and events, and encourage visitors to join the subscription notification services of Baratia and its performers.
* Note and warn visitors against inappropriate behavior, report same to Bard and advise if ejection or banning is warranted based on your observations and judgement.
* Other duties as agreed.
After working together for a time if you and I agree I would like you to consider taking a Manager position with more duties and authority so that you could perform such duties in my absence, with higher fees as appropriate.
As stated above, compensation to be negotiated with each candidate will take the form of a flat hourly rate paid at the end of each shift, as well as 100% of tips to the Concierge. The position will be able to rez tip jars for this purpose. Bard Jameson reserves the right to approve the style of tip jar used so that it is appropriate to the venue.
Please send a resume with references, dates and times you are available and your fee requirements to Bard Jameson in world via an IM/Notecard, or contact him directly via email - bardjameson at gmail dot com
Looking forward to hearing from you!
~Bard~